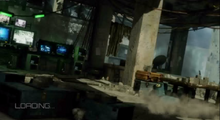 The Disavowed is an underground spy agency founded by Orchid after her discharge from service with the Special Warfare Department (SWD). It is also a refuge for agents and soldiers wrongfully disgraced and dismissed to band together and is currently focused mainly on the exposure of Ultratech's wrongdoings to the world. Its headquarters are in Eastern Europe.
Eagle was once part of the Disavowed, but during an Ultratech investigation, he was captured and later transformed into Fulgore. Additionally, when Jago united with Orchid at the end of Season One, he became an honorary member of the organization.
Members
Associates
History
to be added
This article is a stub.
You can help Killer Instinct Wiki by expanding it.
Ad blocker interference detected!
Wikia is a free-to-use site that makes money from advertising. We have a modified experience for viewers using ad blockers

Wikia is not accessible if you've made further modifications. Remove the custom ad blocker rule(s) and the page will load as expected.