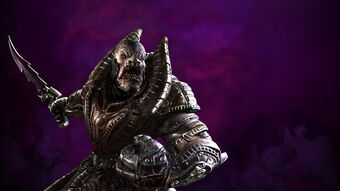 General RAAM's Extended Story was a narrative released on the official Killer Instinct website to serve as a non-canon backstory for guest character General RAAM in Killer Instinct (2013).
The General's Story
Massive, cunning, and superhumanly strong, General RAAM is regarded as the original super warrior of the Locust Horde—a species of reptilian humanoids. The long trail of dead human soldiers (called Gears) and devastated cities he left in his bloody wake can only prove it.
RAAM began life as all Locust do—living in the depths of the planet Sera as a common Drone. Through a mixture of guile, brutality, and genetic enhancement, he quickly became a member of the elite Theron Guard. From there, RAAM took control of the entire Locust Horde for Queen Myrrah (the human leader of the Horde). On the now-infamous Emergence Day, RAAM began his genocidal rampage across the planet Sera.
External Links
General RAAM's Character Page on the official Killer Instinct Website
Ad blocker interference detected!
Wikia is a free-to-use site that makes money from advertising. We have a modified experience for viewers using ad blockers

Wikia is not accessible if you've made further modifications. Remove the custom ad blocker rule(s) and the page will load as expected.