Instinct Mode
is a new mechanic introduced in
Killer Instinct (2013)
.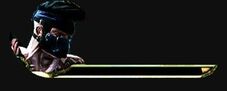 Instinct Mode is a special technique that causes the user to become infused with energy that enhances their abilities. All combatants can do this.
[1]
Execution
A special orange bar is located under the combatant's health bar. This meter builds primarily through taking damage and through successful Combo Breakers. Once it's full, a combatant can activate it by pressing (HP+HK) while in a neutral state, or in the middle of a combo to reset the Knockdown Value. If used to cancel a combo, it resets the Knockdown Value Gauge to zero, allowing the combatant to stack even more damage to their combo. It can also cancel an Ultra Combo to extend the Ultra Combo even further, even into another Ultra. Each Instinct Mode is different for each character and gives them a unique mechanic, property, or new move while their Instinct is active.
List of Instinct Modes
Information in italics denotes information not provided in the in-game command list.
Kim Wu - Dragon Spirit: Kim Wu summons the Dragon Spirit. She automatically generates dragon stocks over time.

Dragon Cannon: Kim Wu has full access to her Firecracker counter-projectile attack with (HP+HK), at the cost of one dragon spirit each.
Tusk - 10,000 Years of Training: Tusk's tattoos glow red. He can cancel any special move into another special move. Each time a cancel is used, a small piece of the Instinct meter is drained (in addition to the regular depletion that occurs when activated).
Arbiter - Judge and Executioner: Arbiter activates a personal energy shield that extends his health meter slightly and gives him unlimited armor against projectiles. The shield automatically regenerates after a short time if destroyed.

Parry: Pressing (HP+HK) will have Arbiter enter a defensive stance momentarily. If timed correctly, he can use it to completely block oncoming attacks including projectiles and reset into a neutral stance, allowing him to quickly fight back against an enemy's onslaught.
Rash - Turbo Tunnel: Rash mounts a Speeder Bike and charges headlong forwards. While Instinct Mode is active, new Speeder Bikes can be summoned using (HP+HK) for ramming attacks. Additionally, all of Rash's attacks make 8-bit sound effects similar to those present in the original Battletoads on NES.
General RAAM - Kryll Storm: General RAAM summons the Kryll to blanket the battlefield, which provides camouflage. The opponent also takes Potential Damage for the duration of Instinct Mode, unless General RAAM is being hit.
Previous Instinct Modes
Throughout the updates of Killer Instinct, the game is rebalanced in many ways. One of these ways is changing Instinct Modes, and some characters have had their Instinct Modes vastly changed.
Spinal - Skull Summon: Spinal begins to steadily regenerate skull stocks over time. Removed in Season Three.
Fulgore - Blast Core: Fulgore's reactor immediately reaches max spin speed and generates continuous reactor pips, regardless of how aggressively the player fights. Removed in the 3.6 update.
Shadow Jago - Gargos Focus: Shadow Jago's Endokuken is replaced with a Double Endokuken. Each Endokuken hit (including Shadow Endokuken hits) that connects heals 1.75% health, and Shadow Jago also earns extra frames of hit advantage on all moves. Only present in the playable version until the Real Boy Edition release.
Shadow Jago - Gargos' Fury: Shadow Jago gradually drains Shadow Meter from his opponent and adds it to his own for the duration of Instinct Mode. Only present in the boss version until the Real Boy Edition release.
Gallery
References
Ad blocker interference detected!
Wikia is a free-to-use site that makes money from advertising. We have a modified experience for viewers using ad blockers

Wikia is not accessible if you've made further modifications. Remove the custom ad blocker rule(s) and the page will load as expected.